Bentley is a conservative, slow-moving British car company, at least when it comes to introducing new models. So to keep interest up, it rolls out minor but noticeable design and performance upgrades on its existing models every few years.
That's what the company is doing with its line of Continental GT coupes and convertibles for the 2016 model year. These models were last significantly overhauled in 2011.
The most noticeable visual changes are at the front, where a redesigned bumper and smaller grille create a more dynamic look. Subtler are the side vents added to the front fenders, which incorporate kitschy chrome "B" logos.
The rear of the car sees minor changes to the edge of the trunk lid and the lower bumper. Three new wheel designs available in a couple of different finishes complete the exterior tweaks.
The 12-cylinder engine of the 2016 Bentley Continental GT W12 Coupe and Convertible gets a bit more power, going from 567 horsepower and 516 foot-pounds of torque in its current spec to 582 horsepower and 531 foot-pounds of torque.
Efficiency increases five percent, thanks to a new cylinder-deactivation function that shuts down half the cylinders when all of the engine's considerable power isn't needed. Estimated combined fuel economy for the upgraded 12-cylinder engine is 20 miles per gallon, Bentley says.
The eight-cylinder engines in the Continental GT V8 models carry over unchanged.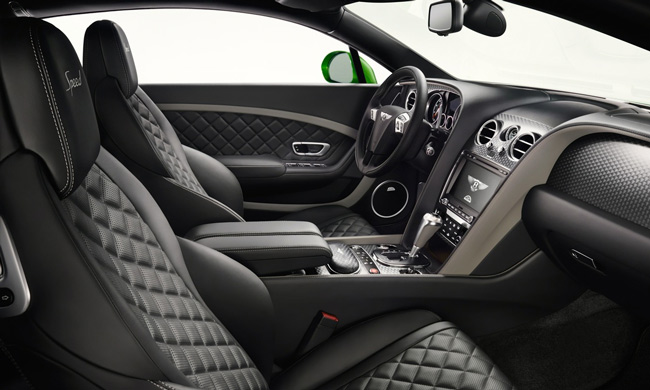 Interiors get new stitching patterns in the seats, optional "semi-aniline" leather that is even softer than the already buttery smooth standard leather, new controls, a redesigned steering wheel, and larger gearshift paddles with the company's signature knurling on the back portion that comes in contact with the driver's fingers.
All of these changes, though insignificant when viewed individually, combine to create a look and feel that is just fresh enough to perhaps pique the fickle interests of high-end sports car buyers.
The 2016 Bentley Continental GT coupe and convertible models go on sale this summer with pricing to be announced. They make their global debut at the Geneva Motor Show, open to the public March 5 through 15, following two press preview days.