What author Richard Happer loves most about abandoned places is that they're everywhere you look — if you look hard enough."There are so many of them, right on the doorstep of our everyday worlds," Happer tells Tech Insider. "Hidden beneath our cities, unnoticed on high mountainsides. The more exploring you do, the more abandoned places that you find." In 2015, Happer published a book, "Abandoned Places: 60 Stories of Places Where Time Stopped," that celebrates the eerie sites around the globe devoid of human residents. He shared some of the images with us.
Giersdorf Church, located in the small Polish village of Żeliszów, was abandoned in 1945.
"Abandoned Places" explores deserted sites on Antarctica, islands in the middle of the Pacific, and even a Six Flags in New Orleans.

Six Flags Jazzland – New Orleans, USA – Abandoned 2005
For his book, Happer defined "abandoned" as places devoid of human residents, though some are visited by tourists and have new structures nearby.
Hotel Del Salto – Near Bogotá, Columbia – Abandoned 1990's

A nuclear power plant explosion at Chernobyl in 1986 coated this northern Ukraine city in radioactive material. Nature claimed it after the residents fled for safety.
Pripyat – Chernobyl, Ukraine – Abandoned 1986
Pennsylvania's Eastern State Penitentiary, opened in 1829, introduced a new prison model by isolating inmates and subjecting them to labor. It closed 142 years later.
Eastern State Penitentiary – Pennsylvania, USA – Abandoned 1971
The Beelitz Sanatorium outside Berlin, Germany, once housed patients being treated for tuberculosis. The building also treated a young Adolf Hitler when it was converted into a military hospital. Soviet forces later occupied it.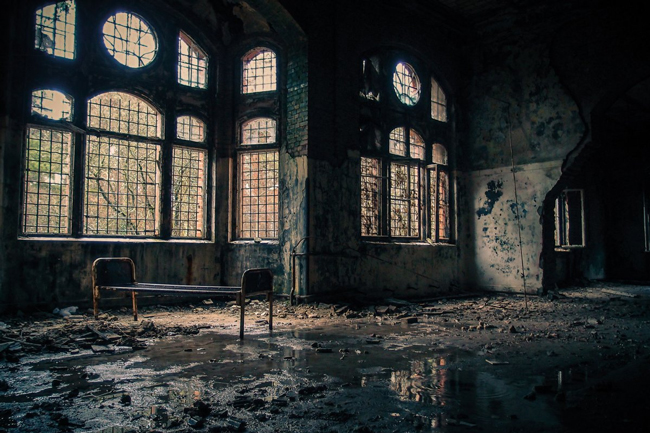 Beelitz Sanatorium – Beelitz near Berlin, Germany – Abandoned 1995
Happer noticed a theme among abandoned sites: greed. "Human settlements have been founded, shaped, and ruined by the flow of commerce for millennia," he says.
Leith Harbour & Grytviken – South Atlantic Ocean – Abandoned 1965
German miners flooded a patch of the Namibian desert during a diamond boom in the early 1900s, but deserted it 50 years later when bigger gems were found further south.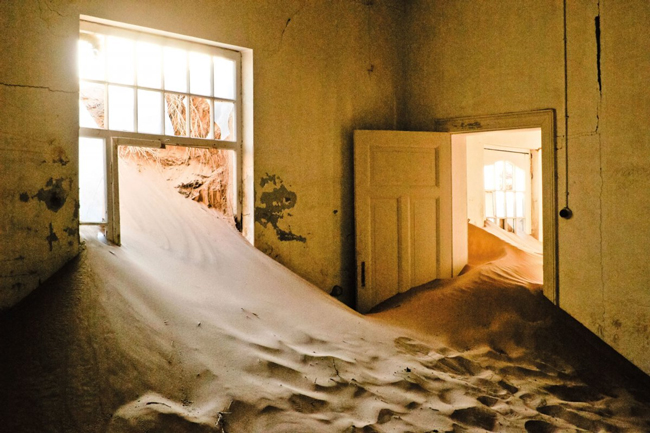 Kolmanskop - Namibia - Abandoned 1956
"Natural disaster too, can suddenly render vast areas uninhabitable," Happer says. Some rides still stand at Six Flags Jazzland in New Orleans, years after Hurricane Katrina decimated it.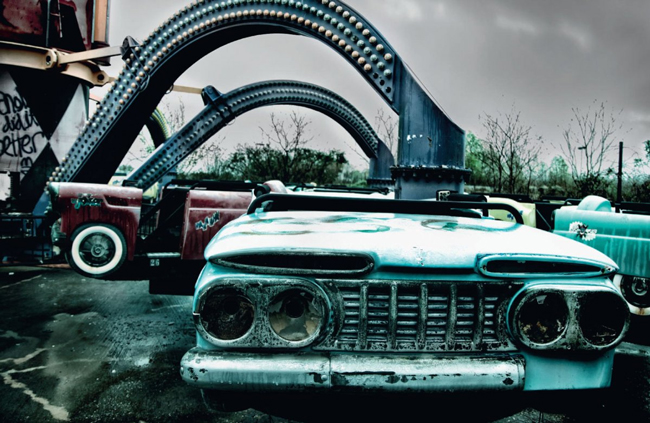 Six Flags Jazzland – New Orleans, USA – Abandoned 2005
Established in 1885, North Brother Island served to quarantine people living with tuberculosis and other diseases. Its most famous resident, Typhoid Mary, lived out her days there.
North Brother Island – New York City, USA – Abandoned 1963
Whether it's commerce, war, or natural disaster that leads places to ruin, the "eerie feeling created by thwarted human endeavor" leaves a lasting impression.
Canfranc Station – Pyrenees, Spain – Abandoned 1970